This page features my most recent and some of my favourite paid patterns from my back-catalogue. For my free patterns visit this page. 
An extensive collection of highlights and bestsellers is on my Payhip store, and my full pattern catalogue is available on Ravelry.
If there's a pattern you want that's not on Payhip, please let me know. 
Lady Aston Sock
This sock is worked top down. The patterning combines two of my favourite techniques—cables and lace—to a create a modern and elegant variation on a classic argyle. And because I love details like this, there's a subtle but pleasing mirroring of the pattern placement on the two socks.
The design features all of my favourite top-down sock features: a flap and gusset heel for best fit, with a band heel turn. I've applied a reinforcement pattern to both the heel flap and the turn, because we don't just wear out the backs of our heels. And there's a no-graft toe that fits well and saves you some fuss.
The pattern is written to be worked on any type of needles: traditional or flexible DPNs, magic loop or two circulars. And I've included lots of tips, too! It was originally designed for a mystery KAL, and I've kept all the tutorial info in. If you've never made a patterned sock before, or even a top-down sock, this pattern will guide you all the way through the process!
The pattern stitch is written and charted. Five sizes for adults: Finished foot circumference: 6.75 (7, 7.5, 8, 8.5) inches/ 17 (18, 19, 20.5, 21.5) cm – choose a size with approximately 1 inch/2.5cm negative ease in the foot circumference
$8 CAD on PayHip, and also available on Ravelry.
Fast Forward – A Toe-up DK-weight Sock
A great introduction to toe-up sock knitting, this pattern uses clever cast-ons and cast-offs, and features a reinforced gusseted heel for improved fit. Using a DK weight yarn makes for warmer socks and quicker knitting. What's not to love?
Written for traditional or flexible DPNs, Magic Loop or Two Circs – use whichever you prefer. And there are sizes for the entire family – young kids up to the largest of adult feet.
$6 CAD on PayHip, and also available on Ravelry.
Tuesday Lunchtime Shawl
The third in an informal series of stash-dive-use-up-leftovers shawls, it joins Thursday Afternoon and Friday Morning. They're all long skinny triangles, each using a ribbing-based fabric.
Thursday Afternoon is based on (k2, p2) ribbing; Friday morning uses brioche. Tuesday lunchtime uses reversible cables over (k2, p2) ribbing, to create a fun honeycomb effect.
For the sample shown, I used about 400 yds of Indigodragonfly DK Matter yarn leftover from a garment project. This is one of those 'use any yarns, knit until you're done' types of projects, and I've included guidance on yardage for other yarn weights.
$6 CAD on PayHip and Ravelry.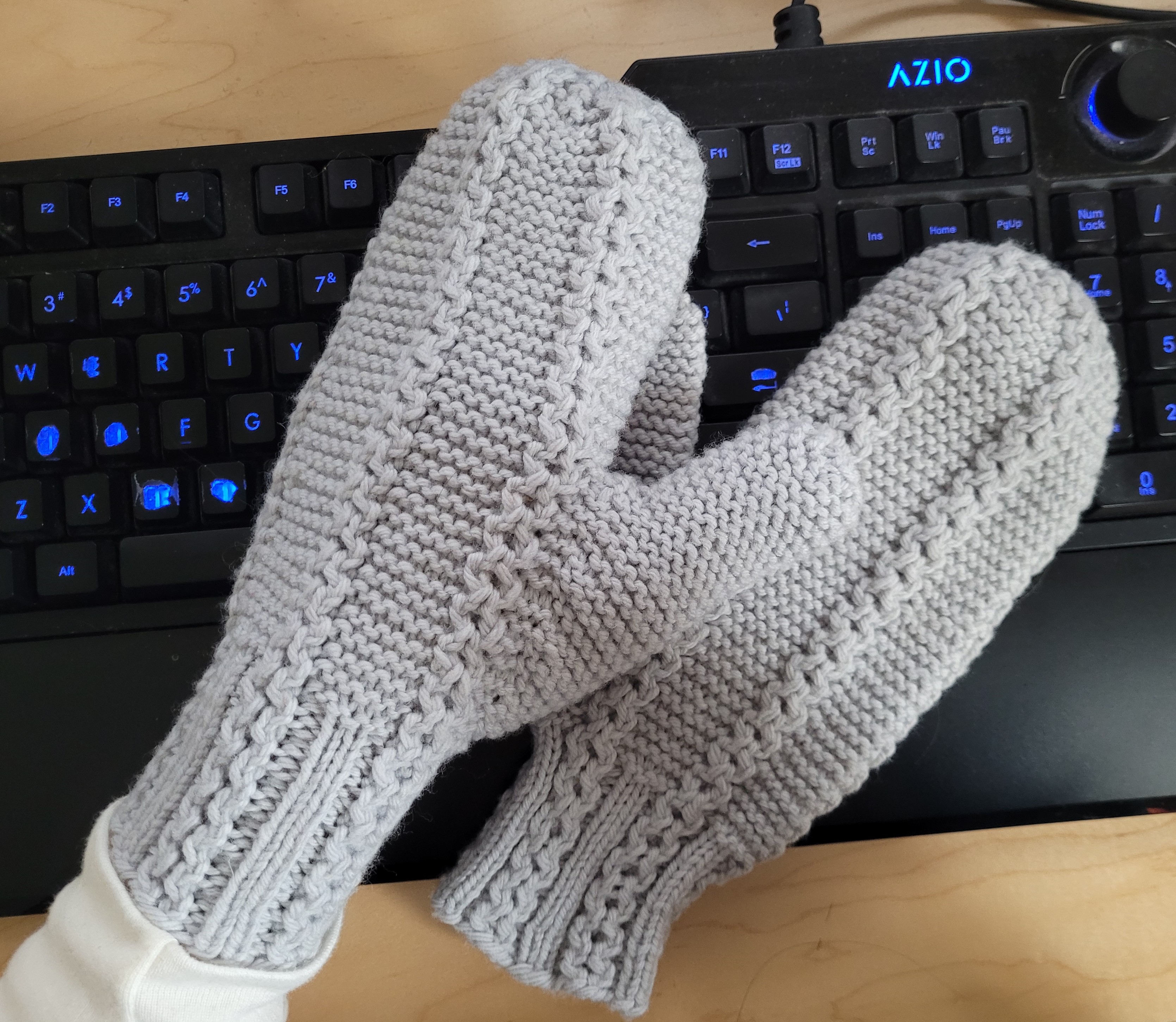 The Wrekin Mitten
The textural stitch of this mitten adds some extra warmth to the fabric, without significant bulk. Sized for the whole family, it's a style that will suit everyone's taste.
Worked in the round, they use a clever 2-stitch cable twist on a garter background. Suitable for knitters with a little bit of mitten experience and confidence with increases, they're an engaging but quick project.
Ten sizes for children to large adults
Finished hand circumf: 5.5 (6, 6.5, 7, 7.5, 8, 8.5, 9, 9.5, 10) inches/14 (15, 16.5, 18, 19, 20.5, 21.5, 23, 24, 25.5) cm
Choose a size about half to 1 inch/1 to 2.5cm larger in circumference than your own hand, measured around the palm above the thumb.
Materials
You'll need approximately 125 (150, 150, 175, 225, 225, 250, 300, 325, 350) yds/110 (140, 140, 160, 200, 200, 230, 270, 300, 320) m of heavy DK to worsted weight.
3.5mm (US #4) – traditional or flexible DPNs, 1 long circular for magic loop or two shorter circulars, as you prefer
$6 CAD from Payhip or Ravelry.
Toasty Mitten and Hat Set
Double layer mittens for maximum warmth. The outer mitten is worked with a sock yarn double stranded with a soft and warm alpaca and silk blend laceweight; a lining is made out of the laceweight, for even more warm deliciousness. The mittens use most of a 300m skein of laceweight, and less than half of a 385m skein of sock yarn – so the pattern also includes a hat to use up leftovers from your skein of sock yarn. Of course, these would be super for using up stash – 300 m of any fuzzy laceweight and about less than 200 md of a nice fingering weight will be more than enough.
The mittens – nine sizes for children to large adults
To fit hand circumf.: 5 (5.5, 6, 6.5, 7, 7.5, 8, 8.5, 9) inches/ 12.5 (14, 15, 16.5, 18, 19, 20.5, 21.5, 23) cm
Finished hand circumf: 6 (6.5, 7, 7.5, 8, 8.5, 9, 9.5, 10) inches/ 15 (16.5, 18, 19, 20.5, 21.5, 23, 24, 25.5) cm
The hat – four sizes for children to large adults
Finished circumference: 16 (18, 20, 22, 24) inches/ 40.5 (45.5, 51, 56, 61) cm.
It's worked top-down so you can adjust fit and length to your preference.
$7.5 CAD from Payhip or Ravelry.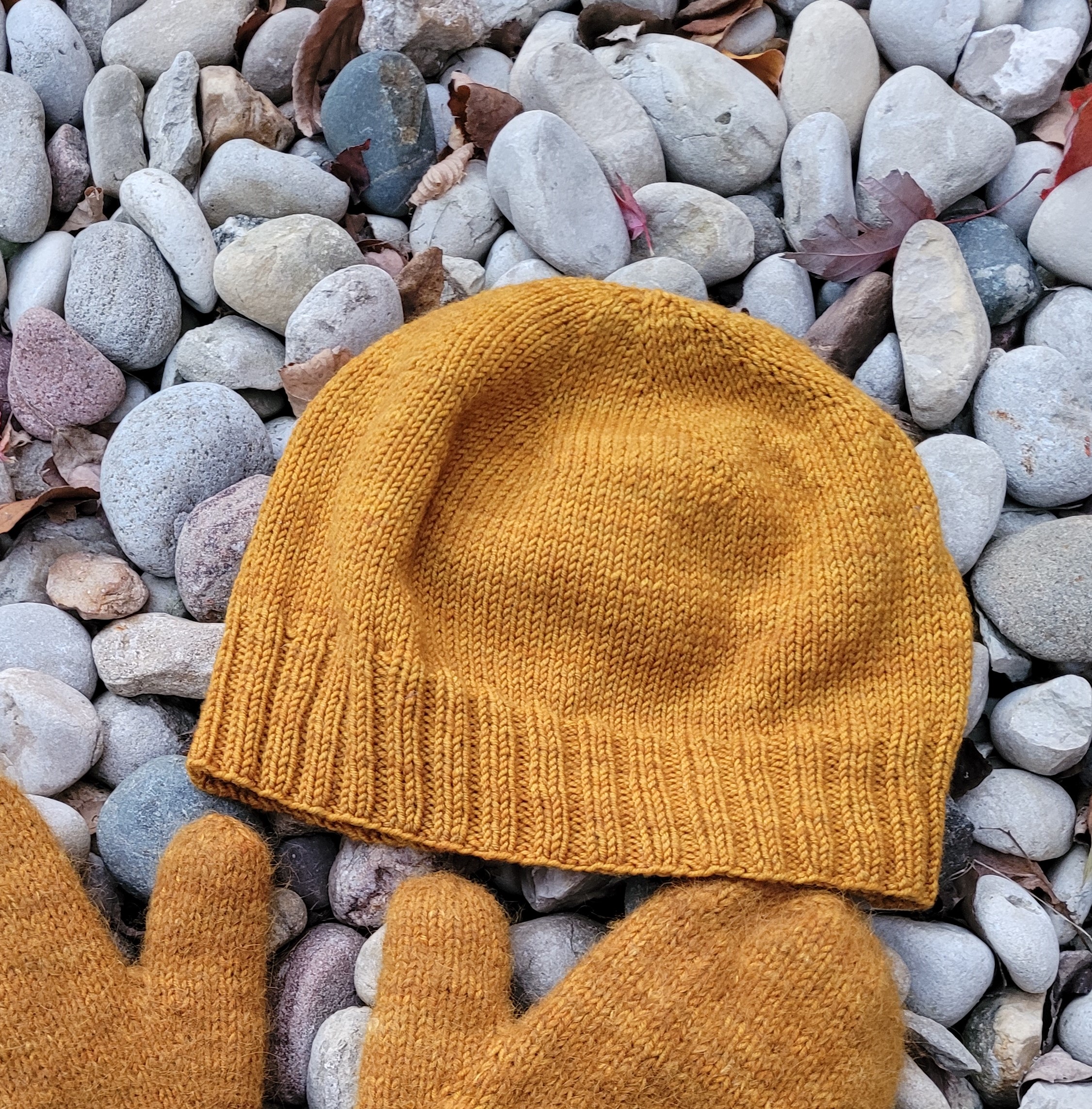 The Mackinac Mittens
Mackinac Mitts are the perfect project for that skein of sock yarn that's just too pretty for socks that are hidden by boots all winter. Use a solid or semi-solid colorway to best highlight the handsome twisted stitch pattern that is easy to memorize and creates an excellent fit. Lightweight and leaving your fingers free to knit or write, these mittens are just right for transitional weather.
Sizes: 1 (2, 3, 4, 5) – teens to large adults
Finished hand circumference, at palm: 6 (6.25, 6.75, 7.25, 8)"/ 15 (15.5, 17, 18, 20) cm
To be worn with 1″/ 2.5cm of negative ease.
Yarn: fingering weight: 180 (200, 230, 270, 320) yards/ 165 (183, 211, 247, 293) meters.
$6 CAD from Payhip, $6 USD on Ravelry.
The Dip In the Road Sock
My favourite type of sock pattern: straightforward to knit, but with a fun design detail that takes them slightly beyond plain. This sock features subtly different lefts and rights, with an offset ridge-rib pattern.
It's worked top-down, with a reinforced heel flap and *turn*, with a gusset for better fit. The design features my favourite no-graft toe closure, which works on all shapes of feet – and saves fuss. (Of course, if you prefer, work your usual toe.)
Instructions are written for your preferred needle configuration. Everything's spelled out – if you've not worked a sock before, all the guidance you need is here!
9 sizes, finished foot circumference 6-10 inches/15-25 cm. $6 CAD from Payhip, $6 USD on Ravelry.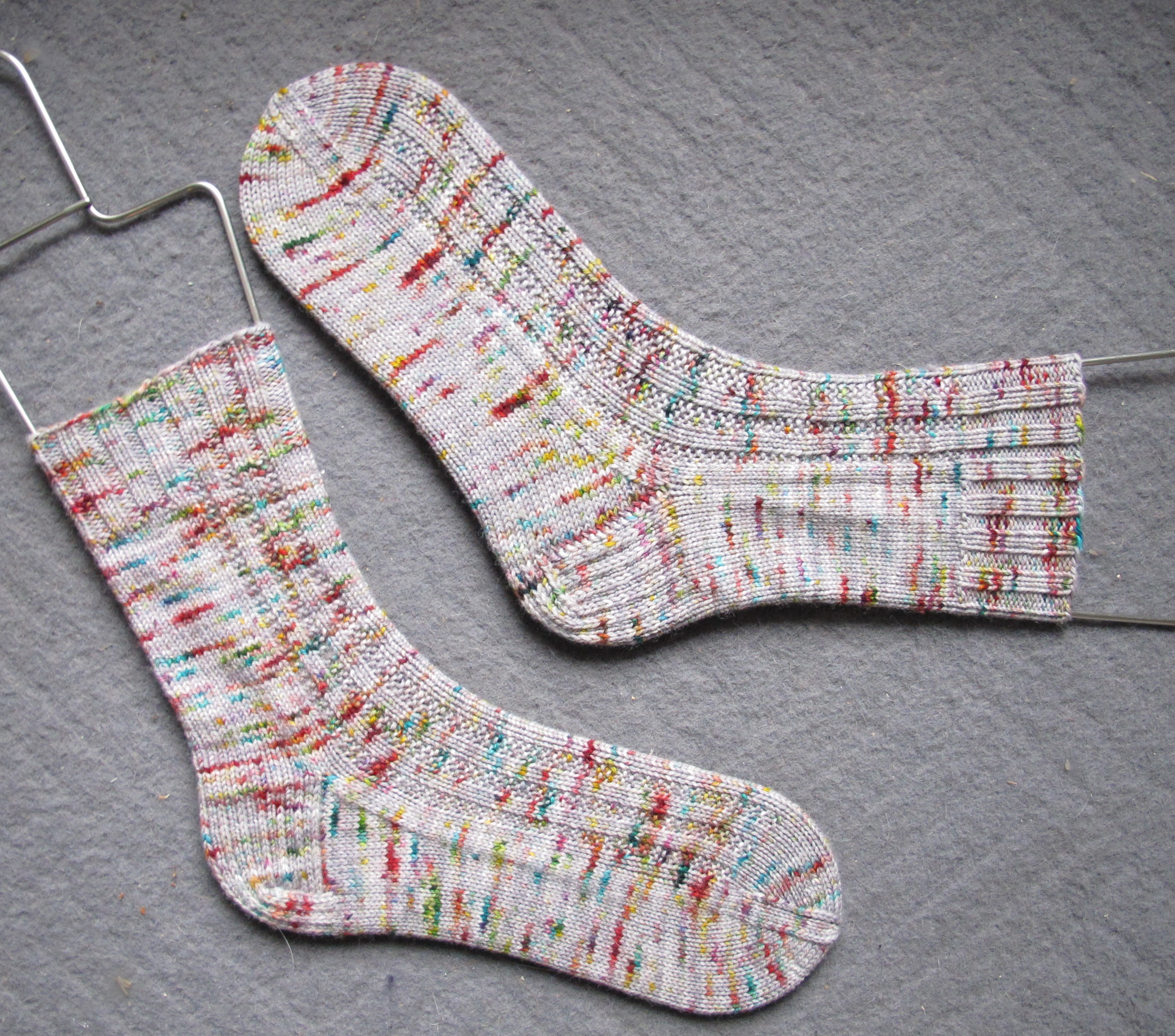 Lines and Lines Shawl
A big, comfy and cozy triangle shawl. A clever-but-not-at-all complicated stitch pattern provides a fantastic geometric effect, with two directions of stripes.
The sides edges are worked in stockinette rather than garter stitch, for a more-elegant-than-the-usual look. It starts with a tab in stockinette stitch rather than garter, and there's a full explanation.
The yarn used for the sample is a heavy fingering weight, with a light halo from the alpaca content – I used two 350 yd skeins . All sorts of yarns would work well for this project, although I'd avoid something too fuzzy, as the pattern stitch would not show as well. A solid or nearly-solid colour would be best. A thicker yarn will give a larger shawl; a finer yarn, a smaller shawl. The design permits easy adjustment to any yardage. The main pattern is worked until half the yarn is used up – if you've got two skeins, this is easy, otherwise a digital scale will be helpful!
The sample as shown, worked with 700 yds, is 84 inches/214 cm wide and 35 inches/89 cm at the deepest point
$7.50 CAD from Payhip, $7.50 USD on Ravelry.
The Montclair Sock
 These socks have been designed with comfort in mind: comfort in knitting, and comfort in wearing.
I've used a handsome and interesting-but-not-too-interesting pattern stitch for the leg and the foot. It's a bit more fun than plain stockinette, and keeps you engaged as you're working. It looks best with a solid, semi-solid colouring, but can hold its own with even a lively variegated yarn.
They're worked top down, and feature a flap-and-gusset heel for best fit. I've reinforced both the heel flap and the turn, for added longevity – and comfort, too! The spiral toe is comfortable to wear, and avoids the often-troublesome grafted close. There are notes for variations and customizations: a slouchy-leg version and different choices for the heel patterning.
10 sizes, finished foot circumference 6-10.5 inches/15-26.5 cm. $5 CAD – but if you buy from the Payhip store before January 15th there's an introductory discount.
Dr. Tam's Shawl
A long and narrow triangle, worked sideways, with a single skein of yarn.
It was originally designed to use a Very Special colourway dyed by the Indigodragonfly team, inspired by an image from a microscope of the COVID-19 virus. One of my favourite edging patterns is a Shetland classic, called Droplets. Given how the virus spreads, it seemed like an obvious choice. I played with the Droplets pattern, creating smaller and larger versions, to allow the Droplets to spread – an epideminology message in knitting form. And because I enjoy fun little details, there's 19 rows between Droplet Motifs.
This design lets you maximize your yarn, making it ideal for using up a special (or just lonely) single skein from your stash. The motifs are charted, and it's suitable for knitters with a little bit of lace experience, or new lace knitters with sense of adventure.
I worked it with sportweight, making it a bit faster than the usual one-skein project, but this would work just as well with fingering – or any other yarn you might have at home. I've included notes on how to adjust for other yardages.
I've named it after Dr. Theresa Tam, Canada's Chief Public Health Officer. She is a physician with expertise in immunization, infectious disease and emergency preparedness, and she has shown incredible leadership and fortitude during the COVID-19 pandemic.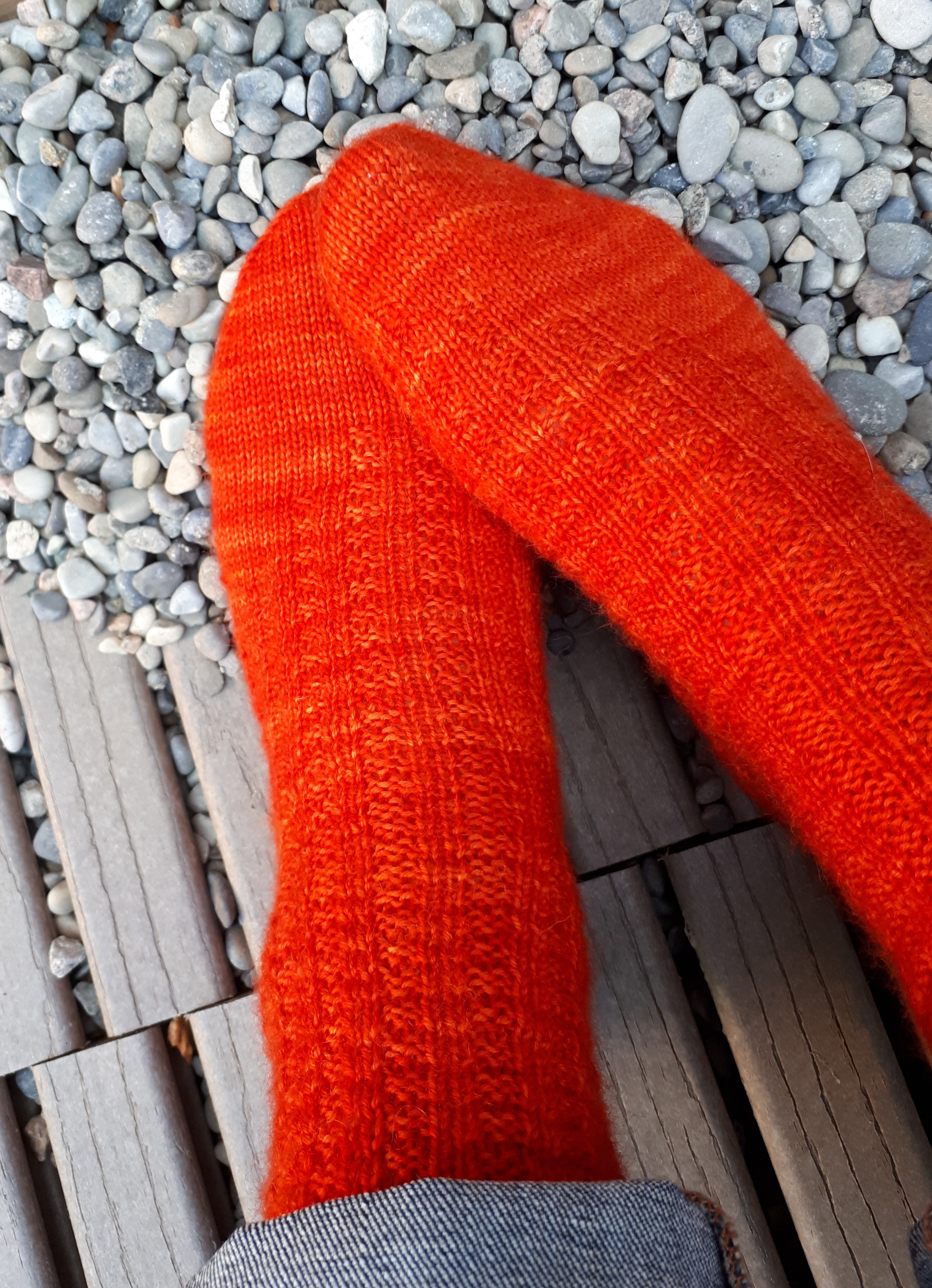 Find Your Feet (Blood On the Tracks)
A good everyday pair of top down socks – interesting to knit, but not so interesting that you have to keep consulting the pattern.
This design features some of my favourite details:
• a Dutch (a.k.a. square) heel turn, that allows you to work reinforcement on the back of the heel and continue it down into the heel turn.
• a no-graft toe
• a simple but very effective pattern stitch that livens up solid and semi-solid sock yarns
As photographed, they have a subtle little asymmetrical pattern detail on the foot, to create right and left socks; this is entirely optional. Continue the pattern stitch all the way down to the toe if you wish. Or, heck, work the same direction of fade on both feet.
(And the name? The colourway is inspired by a Blood Orange soda, and in our house, we make a cocktail with it, with a shot of bourbon. The cocktail is known as Blood on the Tracks.)
Tiny Treasure Baby Bonnet
A baby bonnet using the most special of yarns, for the most special of babies.
This pattern is suitable for knitters with a little experience. The bonnet is worked seamlessly, in the manner of a sock heel turn.
Women of Mathematics Laceweight Collection
All slightly off-kilter in some way, these three shawls are designed to be versatile everyday pieces. They only require the most basic lace skills, and are well within the reach of any knitter who knows how to handle a yo or two. Don't be afraid of the fineness of the yarn, you're still using pretty big needles. There are three sizes of project, depending on how big a piece you want, and each adapts to whatever quantity of yarn you have.
Noether is a big old rectangle, with a fun asymmetric stripe. Busbridge is a regular triangle that turns the patterning upside down: it's lacy at the top, plain at the bottom. And Souvaine is a slightly asymmetric triangle, with an oh-so-simple but very impactful lace stripe.
Patterns sold as a collection.
The Wild One
Everyone needs a classic moto jacket – but who says it needs to be leather?
The Wild One has all the right details: asymmetrical fronts, a high collar, and some serious hardware. The warm and windproof
fabric means that it's functional, too.
Style it traditionally with jeans and a white tee, or to use it add a little bit of rock 'n roll to a dress. You'll wear it every day (motorcycle optional).
Sized for Women's to XS to 3X, the slightly cropped length, set-in sleeves, and waist shaping fit and flatter all figures and sizes.
Multiple sizes, to fit pre-teens to the largest adult hands. Work sideways, flat. The gusseted thumb is created through the use of German Short rows. If you've never used them before, you'll find them easier to work – and easier to make tidy – than the usual wrap & turn. I've included a tutorial.