FREE ON KNITTY.COM!
A nice bit of a texture – cables and garter and lace! I've adapted a traditional edging pattern for this, to create a sideways, slightly asymmetrical triangle shawl that works with any type of yarn, and adapts to any yardage. Just knit until it's the size you want. Suitable for knitters with a little lace experience.
The One That Started It All: The Basic Ribbed Sock
Top down sock in multiple sizes for adults, featuring a flap and gusset heel for improved fit, and an easy-peasy, beginner-friendly no-graft toe. Instructions are written for your choice of needle configurations: DPNs, magic loop, 2 circulars.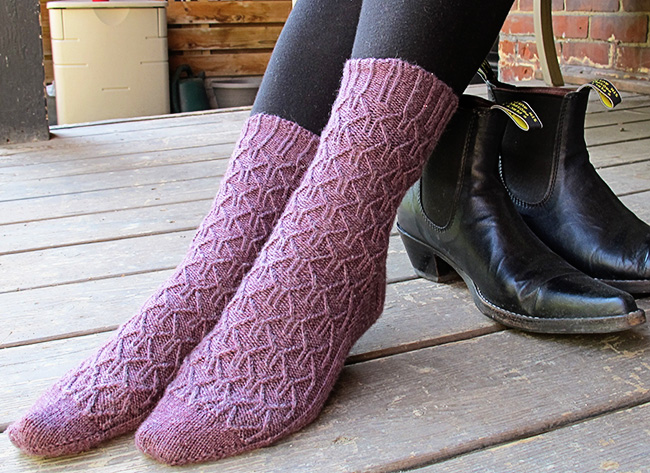 FREE ON KNITTY.COM!
A handsome sock in a twisted stitch pattern inspired by classic argyle patterning. 8 sizes.
Worked toe-up, because I liked the patterning better that way. A wedge toe, a flap and gusset heel, and a nice stretchy bind off.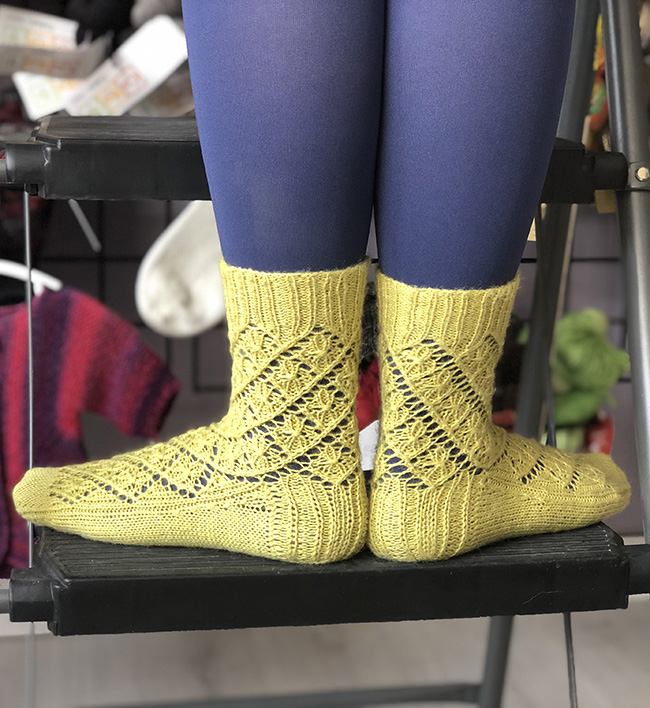 FREE ON KNITTY.COM!
Lacy socks in a cool bamboo-based yarn are just the thing for spring. And if the weather isn't quite up to it yet, they look excellent over a pair of tights.
The leg is a little shorter than you might be used to wearing but it's spring! Go for it!
These have my favourite sock details, of course: worked top down, with my heel turn of choice, and a no-graft toe. The square heel allows you to easily continue the reinforcement down into the turn.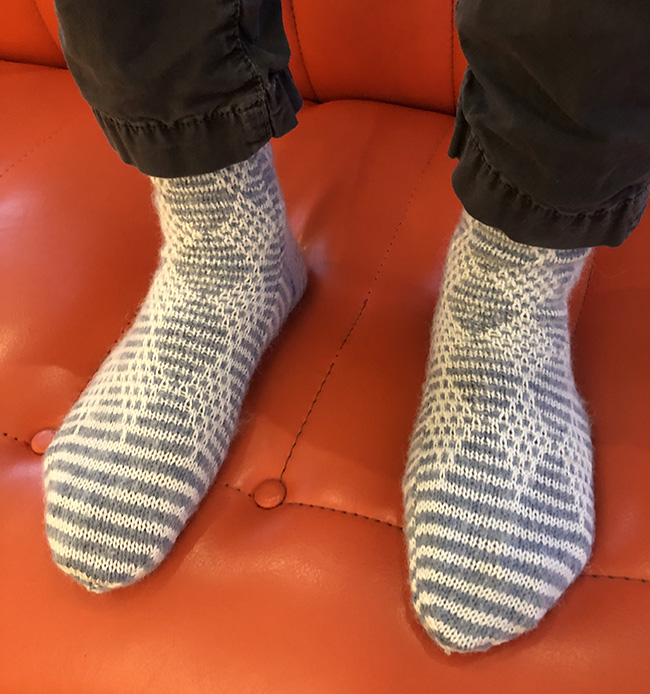 FREE ON KNITTY.COM!
Although I love the results, I'm not keen on the process to work a stranded colourwork sock. I find that they can be challenging to knit, and to fit. Slipped stitch colourwork provides an excellent solution: you only work with one colour at a time, reducing the yarn management issues and the tightness of the fabric.
Top down, with a flap and gusset heel for best fit, the heel flap is worked in a two-colour Eye of Partridge reinforcement pattern.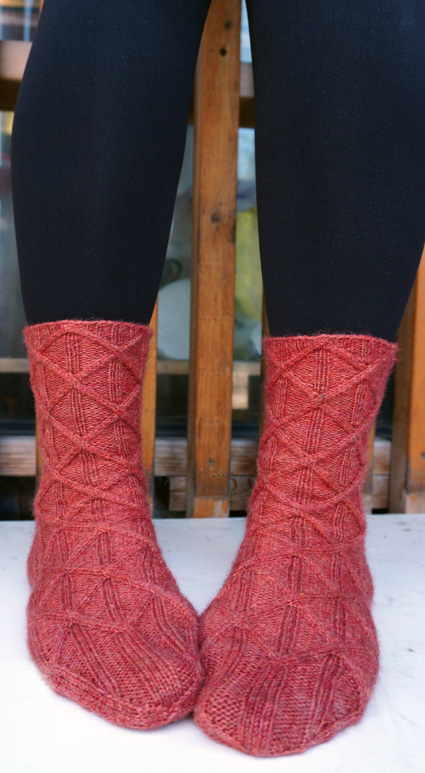 FREE ON KNITTY.COM!
Cabled socks. Inspired by a stitch pattern I found in a book of Austrian Twisted stitch patterns, whose name translates to "Witch's Legs", I created a sock that might be appropriate for Hallowe'en. Or just for autumn.
To keep the knitting interesting, the two socks are subtly different – the left has right-leaning central cables, the right has left-leaning central cables, and the pattern is slightly offset on the leg. Four sizes.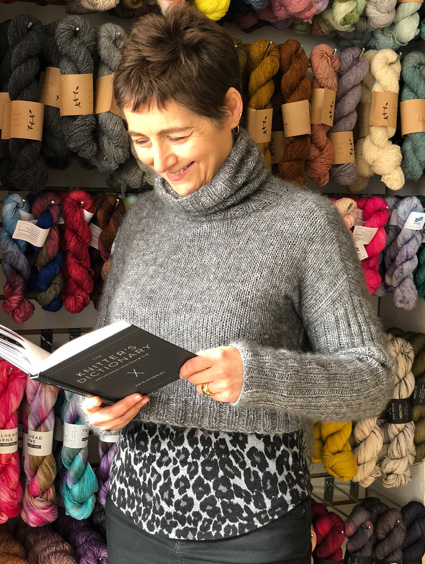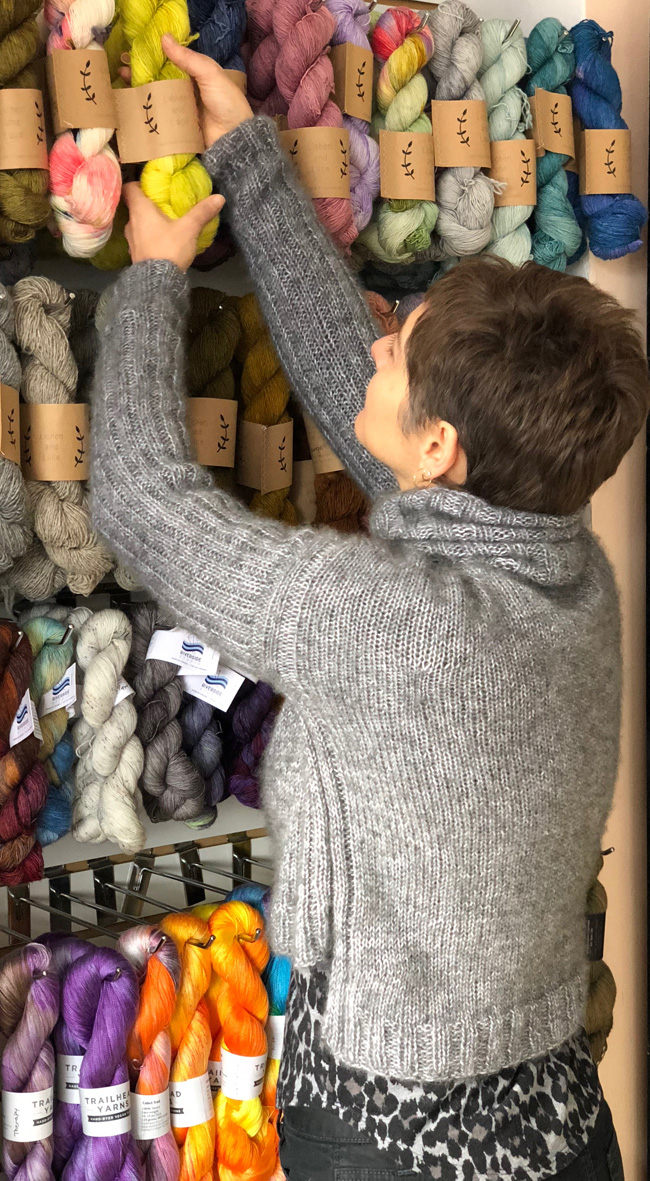 Kiernan
A fashionable-but-not-too-trendy oversized cuddly sweater, with an exaggerated cowl. A high-low hem with some short-row shaping for a bit of shirt-tail effect, the length is kept cropped, for balance – and so you don't get lost in it. The sample uses a ridiculously soft and luxe wool and cashmere blend, but it would be just as great in mohair and blends.
Fingers Crossed
Mirrored cables because Second Mitten Syndrome is too a thing. Sized for teens and adults. Free on Knitty.
(FREE ON KNITTY!) Because ribbed socks fit well, but are a bit… well, let's be honest here… dull to knit. 6 sizes. Top down.